Acorns Investing for Beginners
If you're someone that's interested in investing, but you simply do not know where to start, well, fortunately for you, "there's an app for that!" Acorns is an amazing app that helps you invest the loose change that you'd normally leave lying in a drawer or lose in the seats of your couch. With Acorns this loose change gets invested through a process called "micro investing" into a well-diversified portfolio.
So How Does it Work?
Acorns is really smart. Normally when you make a transaction at a store, there is always a little bit left over to make it into a round number – especially after you added the tax. Acorns rounds it up for you (automatically) and then invests this "spare change".
For example, if you purchase a bottle of pop for $1.50, you'll probably end up paying $1.57 or something after your taxes are added. Acorns will round your purchase up to the nearest $1 and invest the difference, which in this case is $0.43 ($2.00 – $1.57). Similarly, if you make a purchase for an item that ends up costing $20.01, the $0.99 difference will be invested. You can even set it up to round up purchases that are already a whole number – so for example if your item costs $10, Acorns will round it up to $11 and invest the $1 difference.
Now at first glance, these tiny, small investments don't seem like much, but over time they add up and the time window can be quite short. For example, I've been playing with Acorns for about two months or so and in that time, I've automatically "invested" $52.56. This is money that would not have been really doing anything for me previously, but it helped grow my portfolio by close to 3%, which is pretty impressive considering what the banks offer for savings accounts! In addition, I've also earned $9.29 from the "found money" feature (more on this later on in the article).
It's Not Just an Investing App But is Also A Saving App
If you have a problem of constantly spending money in your bank account then Acorns can help you with that. This is a great way to automate your savings. If you need to save up for something like starting a business, investing, or a dream vacation with your family then Acorns is a great solution. Instead of in a jar or high-yield savings account, you can now invest your spare change, plus the money you are planning to save. Wouldn't it be great to look at your Acorns app at the end of the year and find that you have over $1000 in savings, where you've only actually put in maybe $800- $900?
Linking Your Accounts
The brains behind Acorns is the ability to access your accounts. You see you grant Acorns access to your debit and credit accounts and then every time a purchase is made, Acorns will automatically round it up to the nearest dollar and invest the difference.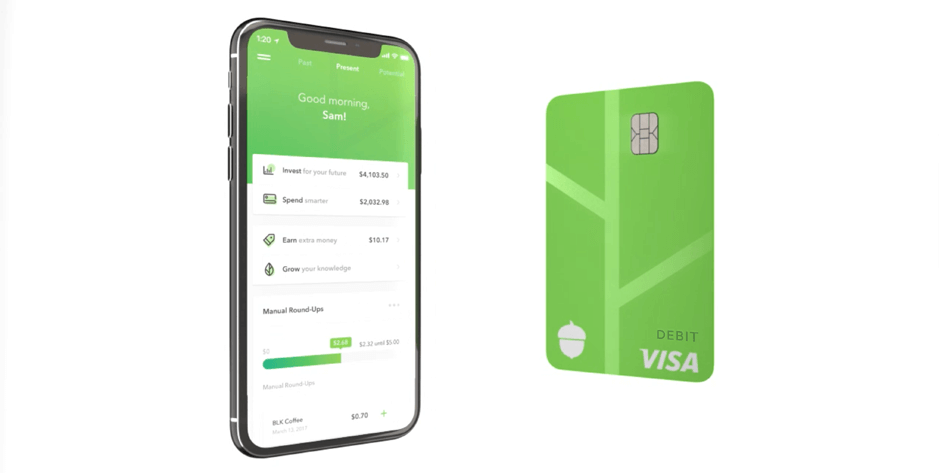 Now, obviously you don't want to do this with your credit accounts as any gains you would make investing through Acorns will be completely wiped out by credit card interest rates. So be very careful when you use credit cards. However, using it for your debit accounts really works as it forces you to invest and as each individual transaction is so small you really do not notice it.
In fact, in some ways it makes budgeting a lot easier as well as rounded numbers are a lot easier to play with and understand than pennies on the dollar! With Acorns you're not just restricted to the micro transactions – you actually can deposit a lump sum amount and then use that to make an investment also. Manual investments are available as frequently as you desire, so top up that account regularly!
Is Acorns Safe & Secure?
I am sure many people would be worried about an app accessing their banking information. Since it is one of the most popular investment apps, it is encrypted properly to provide users with a high level of security. This is what I found on their website:
"Acorns is serious about security. We've taken many steps to help keep your account and information protected when you create an account and use Acorns.
SIPC Protected Investment Accounts
Securities in your Acorns Core and Later accounts are protected up to $500,000. For details, please see www.sipc.org.
FDIC Insured Spend Accounts
Deposits in your Acorns Spend account insured up to at least $250,000. For details, please see www.fdic.gov.
SSL Encryption
Our website and app are secured with 256-bit encryption. This means your personal and financial information can only be accessed by you and Acorns.
Account Alerts
We will alert you when we detect unusual account activity for protection against fraud.
Bank-Level Security
Multiple layers of security to safeguard your information, including secure servers.
Account Safeguards
Automatic logouts and ID verification help prevent unauthorized access."
What is Micro-Investing?
Historically investments required you to purchase a single share of a stock or bond. You'd need to pay the often fairly large amount for that purchase and then also an investment fee to the brokerage. Similarly, when you chose to sell your investment, you'd again need to pay the brokerage.
With micro investing, you are actually purchasing only a fraction as little as a few bucks. Acorns is essentially like a micro-investing platform that helps remove traditional barriers to investing even when you have limited incomes and assets.
Automatic Investments to Make Things Easy
Since all the investments are automated for you, that means you do not have the option of selecting specific companies and industries to invest in. What you do have though is the option of choosing how aggressive you want to be with your investments. Acorns will automatically diversify your spare change based on your goal.
If you really don't want to lose your hard-earned money, then a conservative portfolio would be your best bet. The trade-off is that it will grow slower, and take longer for you to see any significant returns.
Conversely if you're less risk averse, a more aggressive stance might suit you. Generally speaking the more aggressive you are with your investments, the greater the potential for growth is. With this growth, though, there is also a greater risk of losses. In my case, as this was literally spare change that I wouldn't really be getting too much use out of, I felt a more aggressive portfolio was my best bet.
More Details About the Portfolio's Available
Regardless of the strategy selected, Acorns provides you access to a diverse portfolio of seven Exchange Traded Funds (ETFs). These ETFs include more than 7,000 stocks and bonds including commodity funds that track index. By choosing an ETF for an investment, it's possible to realize an exceptional return on investment.
Acorns chooses the ratio of investment into each of these funds based on your investment preferences and how aggressive you wish to be. Each strategy offers a differing mix of investments as well as possible growth rates as you can see below.
Generally speaking investing in bonds is the safest strategy. If you are willing to take a risk, then investing in small companies and emerging markets offers a great potential of ROI. The one key point to make about investing is that it is a long-term strategy – you cannot expect to get rich trying to "play the market" – it's much better to buy and hold. If the market dips, don't panic and sell. Rather, it would be wise to change your portfolio type. Acorns does give you the option of changing your portfolio type. That way you can change how your investments will perform without having to withdraw your funds.
These charts will give you an idea of how Acorns diversifies your portfolio. They are developed with help from Nobel Prize-winning economist, Dr. Harry Markowitz.
How Much Does It Cost?
Well unless you're a millionaire (and even if you are), Acorns is a steal. It used to cost $1/month until your portfolio reached $5000 and then the price would go up, but Acorns has recently made some changes so that the price stays at $1 until you reach $1 million! After this, it costs $100/month per million dollars. I don't think anyone would complain about $100/month if you've managed to invest $1 million in spare change.
For that $1/month, you get a lot. In fact, it's like having your own broker that works only for you for just $12 a year. Really, if you think about it, it's completely crazy that you can get all of this for less than the price of 1 coffee.
Although if you are a student, then you probably don't have much to invest. If you only invest $100 in a year for example, that's $12 you'll pay in fees, or 12%. Unless your portfolio can give you a ROI over 12%, then it's not really worth it. But here is a good news. If you are currently in school/college, you're in luck. Acorns does not change a penny for using their app for 4 years or as long as you are a valid student email address holder. Make sure you register with a .edu EMAIL ID. To all the parents, this is the perfect tool to teach your kids about investing!
What's Found Money?
Acorns offers another cool feature that can help you top up your portfolio. That is something they refer to as "found money". Basically, this is a cashback rebate that you will receive by purchasing from specific vendors they have tie ups with. If for example you make a Groupon purchase, 2% of your purchase price will be reinvested into your Acorns account.
There are quite a few different "found money" offers on the Acorns app that you can take advantage of and quickly grow your portfolio into something substantial. These promotions change quite frequently, which gives you the chance to find new and different ways to adding free money to your investment.
How About the Taxman?
Whenever you sell or liquidate assets in Acorns you will receive a comprehensive pdf file that details all of the information you might possibly need. In addition, Acorns will provide you with a Form 1099, which you can use when filing your taxes.
With investments, you only need to report capital gains you realize. This means that if you've sold your investment and made money, you need to pay capital gains tax. If you've sold your investment and made a loss, then you get to write these losses off. This applies to any investment and not just Acorns.
The rate of tax you pay also depending on how long you've held onto an investment. In most cases, longer term investments (those over one year) have a lower tax rate. You can find a lot more information on the Acorns FAQ on taxes, and also how you should report gains and losses in your taxes.
It bears stating, if you've not sold your investments and they are growing within Acorn, you do not need to claim them on your taxes.
Getting Acorns and Getting Started
The app is available through both Android and iOS, and even your smartwatch! However, Acorns is currently only available to U.S citizens and legal residents in the United States. If you're living in the U.S then what are you waiting for? Sign up today and start investing your spare change. You can check out their website here.
Create your Acorns Investment Account Now!