If you are an entrepreneur then you probably don't have time to watch TV shows anymore. But just in case you do have some free time to kill, or if you are looking for a good business TV show to recommend your little nephew, then here is the list of the best business TV shows you can watch.
Disclosure: my posts may contain affiliate links. If you buy something through one of those links, you won't pay a penny more, but I'll get a small commission, which helps keep the lights on. Thank you!
Silicon Valley
This satire of Silicon Valley is a must-watch for every entrepreneur, who gets to chuckle at the real-life references to eccentric entrepreneurs, as well as outsiders looking for insights on life in the startup world. The series premiered on April 6, 2014 on HBO, and the fifth season premiered on March 25, 2018. On April 12, 2018, it was announced that HBO had renewed the series for a sixth season.
Watch now on Amazon Prime Video
Billion Dollar Buyer
This show introduces promising companies across the country to one of America's most successful businessmen: billionaire hospitality mogul Tilman Fertitta, Chairman, CEO, and sole shareholder of Landry's, Inc. In each episode of this series, Fertitta spends time with two small businesses, which includes insights of everything from sample their goods to the compatibility of co-owners. This show airs on CNBC.
Watch now on Amazon Prime Video
Planet of the Apps
The Apple-created, celebrity-studded reality-TV show which is filled with successful entrepreneurs mentor new app developers through creation, funding, and scaling. The mentors on the show include – Gary Vaynerchuk, Jessica Alba, Gwyneth Paltrow, and Will.i.am. The show premiered in 2017, and it's live with its 7th episode.
Startups can participate in this reality-tv show to learn under the better guidance of successful entrepreneurs and mentors, who would support them with funding, industry knowledge and much more. 
Startup
Amazon Prime's Startup gives viewers an account of 'dark web' and the digital entrepreneurship. The show is airing its fourth season on Prime Video. The story of the Startup revolves around a desperate banker, a Haitian-American gang lord, and a Cuban-American hacker who is forced to work together to unwittingly create their version of the American dream – organized crime 2.0.
Watch now on Amazon Prime Video
Billions
For nearly three seasons, the Showtime drama "Billions" has been structured as a classic cat-and-mouse tale, a story of attack and defense between the impossibly powerful U.S. Attorney Chuck Rhoades (Paul Giamatti) and his nemesis, the impossibly powerful hedge-fund billionaire Bobby (Axe) Axelrod (played by Damian Lewis).
Watch now on Amazon Prime Video
Suits
Suits is an American legal drama television series created and written by Aaron Korsh. The series premiered on June 23, 2011, on the cable network USA, and is produced by Universal Cable. Suits is set at a fictional law firm in New York City. The focal point of the show follows talented college dropout Mike Ross (Patrick J. Adams), who initially works as a law associate for Harvey Specter (Gabriel Macht), despite never actually having attended law school. The show focuses on Harvey and Mike managing to close cases while maintaining Mike's secret.
Watch now on Amazon Prime Video
Ballers
Ballers is an American comedy-drama television series created by Stephen Levinson and starring Dwayne Johnson as Spencer Strasmore, a retired NFL player who must navigate his new career of choice as the financial manager of other NFL players. The series premiered on the American cable television network HBO on June 21, 2015, with a pilot episode written by Levinson and directed by Peter Berg. The fourth season of Ballers premiered on August 12, 2018.
Watch now on Amazon Prime Video
The Profit
The Profit is an American reality television show broadcast on CNBC. Typically, as part of each episode, Marcus Lemonis offers a capital investment and his expertise to struggling small businesses in exchange for an ownership stake in the company. The first season premiered on July 30, 2013. A fifth season premiered on November 21, 2017 and started with a recap episode that looked back at different companies Lemonis had invested in and said whether they were a "win" or a "loss".
Watch now on Amazon Prime Video
House of Lies
House of Lies is an American comedy television series created by Matthew Carnahan. The show, which premiered on Showtime on January 8, 2012, is based on the book House of Lies: How Management Consultants Steal Your Watch and Then Tell You the Time, written by Martin Kihn, a former consultant at Booz Allen Hamilton. It follows a group of management consultants who stop at nothing to get business deals done. On May 17, 2016, Showtime canceled the series after five seasons, with the series finale airing June 12, 2016.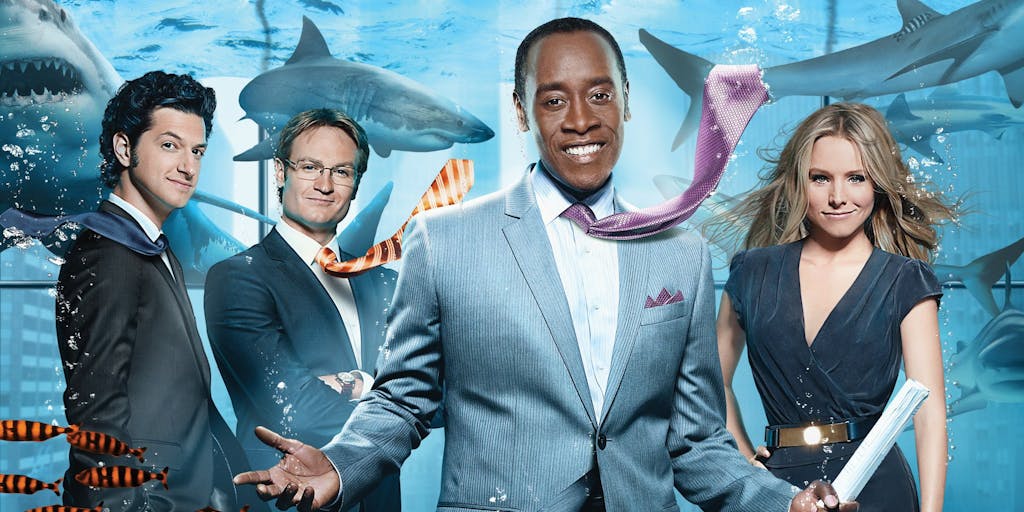 Watch now on Amazon Prime Video
Shark Tank
One of the oldest yet most popular business TV series, Shark Tank is now live with its season 9 on ABC channel. The show is airing its fifth episode. Shark Tank is filled with all the highs and lows of an entrepreneurial journey. In this series, aspiring entrepreneurs pitch their ideas to investors in the panel. The multi-Emmy award winning show is the most celebrated business show on television, which shows the invigoration of entrepreneurship in America. The sharks on this show are the investors on the panel who decides the future of number of startups who pitch on the show.   
Watch now on Amazon Prime Video
Are all of your favourite business TV shows on this list? If not leave a comment below 🙂
---
You can also switch it up and watch an educational training instead…
If you've ever looked in the mirror and thought to yourself, "I should be doing more, I should have more, I am meant to be more" then this may be the most important email of mine you've ever read… 
You just know you have more potential inside you to leave a legacy and impact the world, but you're just not fully reaching it! 
If so, then first know you're not alone…
And secondly, what unlocks our full potential is learning from those who have already transcended, broke the barriers, didn't listen to the naysayers and used resourcefulness to reach that next level of life, wealth and impact…
Lucky for us, two of the best in the world are sharing the exact strategies needed for you to make your impact on the world and to create next level success in your life and they're sharing it for FREE on Thursday, February 27th LIVE! 
Tony Robbins and Dean Graziosi have together positively changed millions of lives and they're two people who I'm fortunate to call my mentors and people I respect the most…
And for only the second time EVER (and the only time this year) they're going LIVE to pull back the curtain and share what they've learned in their combined 60+ year careers of making impact and reaching a level of success we all desire and deserve…
>> Click here to reserve your spot so you don't miss out! <<